Burl Updyke - General Manager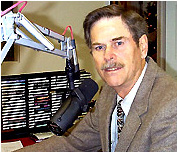 BACKGROUND: Worked as a broadcast Television Engineer for WBRE-TV (10 yrs). With wife Shirley, founded Country Impressions / Suburban News, served as Publisher and Editor in Chief for 20 years. Founded WRGN-FM and missionary radio WIVH-FM in the West Indies. Designed and wrote the software for the Good News Automation System used by several Christian radio stations. Instrumental in establishing a Christian radio station in Tallinn, Estonia. Hold a Commercial Pilot License with Instrument Rating. Married to a wonderful and very supportive wife. ( Ask me about my grandkids.)

SALVATION: Went forward to receive Christ during a church revival meeting, at age 13. As an adult, taught a men's Sunday school class for 15 years, and served as Elder for 20 years.

FAVORITE SCRIPTURE VERSE: Philippians 4:13 'I can do all things through Christ who strengthens me.'

FAVORITE FOOD: Picnic.

FAVORITE DESSERT: Fresh fruit.

HOBBY: Shop work (wood/metal).


OTHER: Other interests include: Music ( playing organ, accordion, dulcimer, etc.), astronomy, Civil War history, steam engines.