Share-A-Thon 2021 Progress
March 15 Update:
It's not too late to partner with us! Help us reach our goal and continue being the VOICE OF HOPE for the Virgin Islands!
"Let everything that has breath praise the Lord!"
Psalm 150:6
Does that verse sound trite during challenging times? In good times and bad, it's always helpful to remind ourselves that the faithfulness and goodness of God transcend all circumstances and situations! As Creator of all things, He has been on the throne since the beginning of time–through countless uprisings, injustices, pandemics, famines, kingdoms, and authorities. We see only a glimpse of what is going on around us, but He not only sees all… He is sovereign over all!
WIVH shares this truth and encouragement through music, Bible teaching, programs, and more. When stay-at-home orders isolated many individuals from their churches, friends, and family, WIVH was present 24/7 to offer hope-filled songs and share the peace of Christ. The good news of the gospel makes us ALIVE with joy and hope, and we can't help but share it with others. We truly believe that as Christ-followers, we were made for times like this. As those who have been brought from spiritual death to spiritual life, we have great news to share! What better time could there be than now to share it? Here's what one listener told us:
Listening to [Christian radio] is so uplifting! It helps get me through my day just to have it on. Especially during this pandemic–it's been a light for me every day while I work from home.
Our theme for Share-A-Thon 2021 comes from one of our favorite songs on WIVH right now: "Alive and Breathing" by Matt Maher.
JOY still comes in the morning
HOPE still walks with the hurting
If you're still alive and breathing
Praise the Lord!
Don't stop dancing and dreaming
There's still GOOD NEWS worth repeating
So lift your head and keep singing
Praise the Lord!
We have the good news that is worth repeating, and we will continually share it as long as we are able! On WIVH, we share this good news through teaching, music, and more! We broadcast teaching from speakers like Crawford Loritts, Chip Ingram, Tony Evans, Nancy DeMoss Wolgemuth, and David Jeremiah—teaching that builds up your faith and equips you. We encourage you on your drive, or while you work from home! We play songs that remind you of the good news of the gospel. Will you help us share this good news with all of the Virgin Islands and beyond, until the whole region hears?
We had planned to travel to St. Croix to visit with many of you in our WIVH listening family during Share-A-Thon as usual, but in light of the uncertainty of the pandemic and travel restrictions, it seemed wise to put an in-person visit on hold. We will miss the opportunity to see you face to face, and look forward to resuming our Share-A-Thon open house next year. Nonetheless, we look forward to connecting with you while we hold Share-A-Thon remotely from our sister station in Pennsylvania. We praise God that we can continue to use technology for His glory! Tune in and partner with us on March 12 & 13! This is the one time each year that we set aside to raise the funds for the majority of our annual budget as a non-commercial, listener supported station. This year we need to raise $38,000 to support the upcoming year of ministry. Partnering with us is easy to do in these ways:
We recently heard from a listener who shared:
"Thank you for all you do. You make such a difference in my life and so many others."
Thank you for being a part of how WIVH is making an impact!
Listen to our 2021 theme song: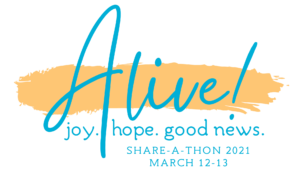 Want to sponsor a day of broadcasting?
Honor a friend or family member by sponsoring a day of broadcasting on WIVH! Celebrate a birthday, wedding anniversary, spiritual birthday, or other special occasion. We'll air an acknowledgment eight times that day to celebrate with you! Day Sponsors donate at the $360 (or $30/mo) level. Call for date availability.
Become a day sponsor by donating $360 or starting a $30/mo donation and adding your desired date and the occasion in the comment box of your donation!
If you prefer to make your donation by check, call us at 800-245-3688 to reserve a day.