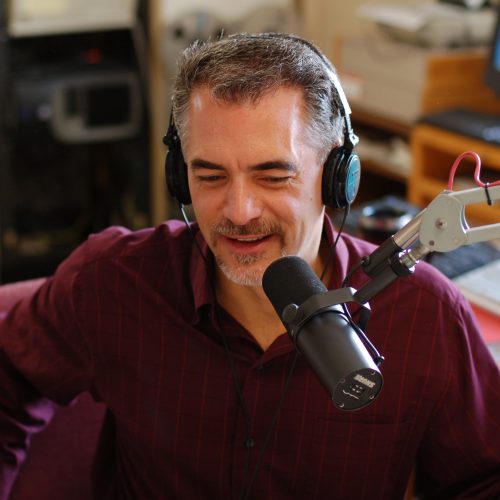 Position:

Email:

tim@wrgn.com
BACKGROUND
Raised here in Northeastern Pennsylvania, I was going to school for communications when I heard WRGN's test signal in 1984. I called the number they gave and went out to the station where I first met Burl and Shirley Updyke. After they shared their vision with me, I told them I was on board, and started as a volunteer. I soon joined the staff of WRGN and worked here until I married Heather in 1991. At that time I left to become Development Director for another non-profit doing Public Relations and Fund Raising. My heart always remained at WRGN, and it's great to come full circle and serve full time here once again. Heather and I have three daughters, Laura (married to Nick), Rachel (married to Matt), and Elizabeth, and two grandsons, Levi and Wilson.
SALVATION
As a P.K. (Preachers Kid) I have sat through my fair share of sermons (as well as weddings and funerals) but I know that head knowledge is not the same as heart knowledge. One Sunday afternoon after the service, but before we left the church, I cornered my parents in the sanctuary and told them I realized the need to act on what I knew, that I was a sinner in need of a Savior. That began a lifelong commitment to serve God wherever he would have me.
FAVORITE SCRIPTURE VERSE
But those who wait on the Lord Shall renew their strength; They shall mount up with wings like eagles, They shall run and not be weary, They shall walk and not faint. – Isaiah 40:31
FAVORITE FOOD
I can only pick one?!? Actually, I love a good sauce: Bearnaise, Hollandaise, Francaise, Buffalo…yes my palate is varied, yet I never tire of pizza and wings, guess it's from all those years working with teenagers!
FAVORITE DESSERT
My wife's apple pie with crumb topping (or her chocolate lava cake…mmmmm)
FAVORITE QUOTE
I'm not just living my life, I'm living an adventure!
HOBBIES
Motorcycling, hiking, skiing, plowing snow…almost anything outdoors!
OTHER
At 18 I was diagnosed with Severe Aplastic Anemia and spent the summer at Hahnemann Hospital in Philadelphia dependent on blood transfusions to live. The doctors did all they could at the time, but told my parents at the end of the summer that I would not live past October. God obviously had other plans, as I not only made it past October, but by the next year, had seen my blood counts go back to normal. I was grateful to God and those who faithfully prayed for me. Then three months after I got married, I was diagnosed with PNH, a blood disorder related to the Severe Aplastic Anemia. Again, the Lord and faithful prayers have seen me through repeated brushes with eternity. Although I look forward to heaven, I believe God has more for me to do here, and I will continue until He is through!