Special program in February on WIVH
In every generation, God uses ordinary people to accomplish great things!
Treasured Moments in Black History is a two-minute weekday radio special for the month of February, Black History Month. This special program remembers the people and events in America that have shaped history and inspired lives. By looking back and highlighting these moments, you will be inspired, enriched, and encouraged in your faith walk to make history for God's kingdom.
Treasured Moments in Black History highlights people or events that have shaped American History. Not all the people being highlighted will be well-known, but they are recognized as Christ followers who have inspired and made a difference for God's kingdom, including:
Baseball player Jackie Robinson

Dressmaker and activist Rosa Parks

Spy, nurse, and activist Harriet Tubman

Musician and producer Kirk Franklin

Coach driver and preacher Rev. Harry Hosier

and more!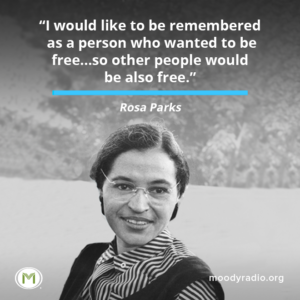 Tune in for Treasured Moments in Black History on WIVH weekdays at 8:57 AM and 5:57 PM weekdays in February!
More for Black History Month
Celebrating Black Heroes blog series by Tony Evans